2019 INFINITI Q60 vs 2019 INFINITI Q50 | What's the Difference?
Difference Between the 2019 INFINITI Q60 and 2019 INFINITI Q50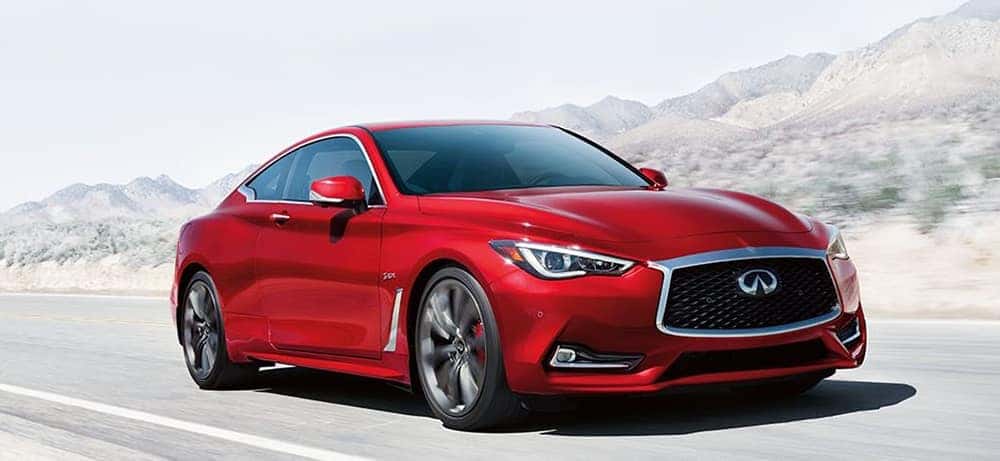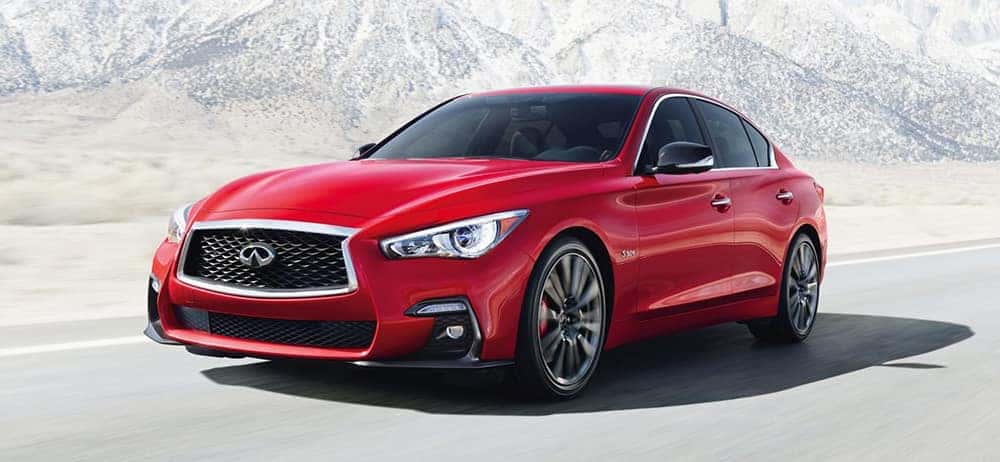 RED SPORT 400 Models Shown

| | | |
| --- | --- | --- |
| 2019 INFINITI Q60 | vs. | 2019 INFINITI Q50 |
| 19 city / 28 hwy | Fuel Economy | 23 city / 30 hwy |
| 300 hp | Horsepower | 208 hp |
| 295 lb-ft | Torque | 258 lb-ft |
Serving Atlanta, Duluth, and Lawrenceville, GA
Both debuting in the 2014 model year, the Q60 and the Q50 form the compact car lineup of Nissan's luxury division, INFINITI. While the Q60 started off as being available in two-door coupe and convertible bodystyles, INFINITI stopped offering the convertible after 2015; it is now solely a sporty coupe. Meanwhile, the Q50 has always been produced as a four-door sedan, thus appealing to customers who emphasize practicality. Six years in with their 2019 models, the Q60 and the Q50 share the following things in common:
Performance
Both vehicles have engines that provide remarkable acceleration ability, whether it's for merging into traffic or switching lanes. The 2019 INFINITI Q50 has a standard 2.0-liter turbocharged inline 4-cylinder engine, which generates 208 horsepower and 258 lb-ft of torque. However, you can opt for a larger and more powerful 3.0-liter twin-turbocharged V6 with 300 horsepower and 295 lb-ft of torque. That same 3.0-liter twin-turbocharged V6 is the standard engine on the 2019 INFINITI Q60 coupe, with the option of getting a version of the engine tweaked to 400 horsepower and 350 lb-ft of torque if you go with the Red Sport trim.
Drivetrain Options
Unlike some compact luxury vehicles, the 2019 INFINITI Q60 and 2019 INFINITI Q50 do not stick with a front-wheel drivetrain. Instead, you can choose between a rear-wheel drive and an all-wheel drive: appropriate for vehicles that are performance oriented. With the engine placed in the front, the rear-wheel-drive system sends engine power to the rear wheels, thus creating a more evened-out weight distribution from front to back. The result is a car that handles better on the road, especially during sharp turns and cornering. Rear-wheel drive also boosts fuel economy due to two factors: power sent to two wheels instead of four; and less energy spent on compensating for uneven weight distribution. For instance, on the Q60, you would get 20 mpg in the city and 27 mpg on the highway with rear-wheel drive, and that dips to 19 mpg and 26 mpg, respectively, with all-wheel drive. Similarly, the Q50 provides a fuel economy of 23/30 mpg with rear-wheel drive and 20/29 mpg with all-wheel drive. On the other hand, all-wheel drive, improves tire grip on the road, since power goes to all four wheels to compensate for any slippage. Loss of traction is a lot less common with all-wheel drive than two-wheel drive.
Cabin Quality
Whether you're going with the 2019 INFINITI Q60 or the 2019 INFINITI Q50, you will be welcomed by a cabin built with high-quality materials and furnished with premium seating accommodations. Leatherette upholstery and 8-way power-adjustable front seats with adjustable lumbar support on the driver's side are standard on both vehicles.
---
You can test-drive either the 2019 INFINITI Q60 or 2019 INFINITI Q50—or both—at our dealership in Duluth, Georgia. With nothing but praise from customers, based on reviews on Google and DealerRater.com, we are a prime INFINITI dealer in the Atlanta area. Call us today to set up an appointment with one of our INFINITI sales specialists.

All figures are EPA estimates. Actual mileage may vary.